Study: Couples That Meet Online Are More Than Six Times More Likely To Divorce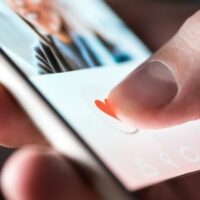 A UK study recently published indicates that couples who met online and later got married are more than six times as likely to divorce as those who met in some other manner. The study appears to indicate the importance of having strong social ties for the couple prior to the marriage. However, it does not indicate that online dating is necessarily more likely to result in divorce in cases where the couple has "couple friends" and strong social supports to deal with marital problems.
For couples who do meet online, the tendency is for one or the other spouse to form close ties to the other spouse's friends. This creates a power imbalance where the spouse's primary social supports are friends of their spouse. Even when the other spouse has friends of their own, the couple would likely go to diverging friend groups to discuss and vent about their problems. Since these friends only have a vested interest in the spouse and not the marriage, it may create a situation where the couple is more likely to separate.
Online dating and marriage 
Ideally, meeting someone online is the best way to meet someone. Instead of scouring your social network for potential lovers, you have a vast database of profiles you can review and choose, specifically, who you want. In a perfect world, this would be the best method of selecting a potential mate. However, that would assume that people know what they want or have realistic ideas about what marriage will offer. While the algorithms are good at matching self-reported complementary personality features and linking you with individuals who enjoy the same hobbies and activities as you, there is obviously more to marriage than that.
Online relationships and social capital 
One of the major issues surrounding online relationships is that couples are forced to build their social networks from scratch. This means a lot of meeting new people, parents, friends, relatives, and more. In other words, they are in the process of investing themselves in their partner's lives when they start the relationship. They may know very little about the other individual prior to that.
The study also showed that marriages that survive 5 years after meeting online are just as likely to survive as marriages in which the partners met through friends or at social engagements. The majority of the online marriages that did break down, broke down within the first three years. So, if you and your partner met online and have successfully built five years' worth of social capital together, your marriage is just as likely to survive as any. It's those first few years that can make or break the deal.
Talk to a Philadelphia Divorce Attorney Today 
If you are ready to untie the knot, the Philadelphia divorce lawyers at the Law Offices of Lauren H. Kane can help you prepare for the inevitable. Call today at 215-918-9453 to learn more about how we can help.
Resource:
news24.com/w24/selfcare/love/relationship/married-couples-who-meet-online-experience-higher-divorce-rate-study-suggests-20211231