Are There Any Downsides To A Premarital Agreement?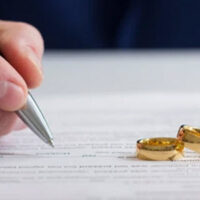 Premarital agreements are not a factor in every marriage, but for many couples, these contracts are very beneficial. Premarital agreements can protect both parties in the event that they get a divorce in the future, and they can also help ensure both people provide full disclosure before they get married. Unfortunately, there are also some downsides to these documents and before you sign one, it is important to know what those entail.
Premarital Agreements Can Create Distrust
Sometimes, a couple thinks they have the same vision for the future, but when the time comes to iron out the details of the agreement, they find that is not the case. When the couple learns that they are not on the same page, it can create a sense of distrust that can create a rift in the relationship. In some instances, the rift is so great the couple cannot repair it, and the wedding does not end up happening.
Premarital Agreements are Unromantic
Planning a wedding is an exciting time. You get to taste different cakes, look at glamorous wedding dresses, and choose what kind of photos or videos you want. All of this is a lot of fun, but drafting a premarital agreement is not, even though it is just as important as the rest of it.
During the most exciting time of your life, you may not want to sit down and think about what will happen if the marriage fails, or dividing up your property before you have even commingled it. Still, these agreements are important so it is important to get the contract drafted, and then focus on the better parts of wedding planning.
Premarital Agreements are not Foolproof
Premarital agreements can help you plan and protect your future interests, but they are not foolproof. Just because you have a premarital agreement does not necessarily mean a judge will enforce it in the event that you get a divorce. If you or your partner did not provide full disclosure about all of your assets, or one of you signed the agreement under duress, a judge will likely throw it out and allow state law to govern your case. This is one reason it is so important to work with a Philadelphia family lawyer that can ensure the document is drafted in a manner that is legal and that the court will enforce.
You Cannot Include Certain Terms
If your only concern about the consequences of divorce is the division of property that will occur, a premarital agreement can cover those terms. However, if your priority is the amount of time you will spend with your child, or the amount of child support you will receive from your spouse, a premarital agreement cannot include those terms. These issues are decided by a judge according to the laws of the state.
Call Our Family Lawyer Today
If you are about to get married, our Philadelphia family lawyer at the Law Office of Lauren H. Kane can advise on whether a prenup is appropriate in your case. If so, our attorney will also help you draft the document so it protects your rights and is deemed enforceable by the court. Call us today at 215-918-9453 or contact us online to schedule a consultation.