Things to Know if You Want to Relocate with a Child After Divorce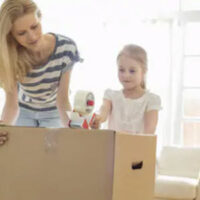 Being awarded physical custody of your child brings a relief that many parents hope for when going through a divorce. However, even though the child custody decision is legally binding, it does not mean that your child custody issues are over. Child custody orders are modifiable for changed circumstances. And, since the only constant in life is change after all, your circumstances are likely to change as well at some point. So, what do you do if that change involves moving across the state, or to another state entirely, for a job promotion or just to be closer to other family members? In Pennsylvania and New Jersey, there are very specific procedures that you must follow.
Guidelines for Relocating with a Child
After a divorce, there may be many reasons why a parent with physical custody may wish to relocate with a child. Regardless of the reasons though, Pennsylvania and New Jersey laws specifically mention requirements that you must follow.
When you are the primary custodial parent and you are planning to relocate with a child, you must first inform any other party that has custodial rights to the child. There are strict guidelines under the law that require that you provide notice of your intention. If, after providing notice, the other parent or custodial party disputes the move, they must file an affidavit with the court explaining why they object.
Factors Considered Upon Relocation Request
After the other parent files their affidavit, a hearing date is set so a judge can make a decision on the relocation. When making this decision, among the factors that a judge will consider are the following:
The nature of the relationship between the child and each parent, as well as any other significant people in the child's life
The age of the child and how relocating will affect their continued emotional, mental, and physical development
The feasibility of sustaining a positive relationship between the child and any non-custodial party through custody arrangements considered reasonable
The preference of the child
Any evidence that one parent tried to hinder the relationship between the child and the other parent
If relocating will affect the quality of life of the parent requesting it
The motivations of the parent asking for relocation
Any evidence of child abuse on the part of either parent
Any other factor the judge deems relevant
After taking all of these factors into consideration, a judge will make his or her decision, which is legally binding and must be followed by both parents.
Our Pennsylvania and New Jersey Family Lawyer Can Help with Your Custody Issues
Whether you want to relocate with your child(ren), or you want to prevent your former spouse from relocating, our Philadelphia family lawyer can help. At the Law Offices of Lauren H. Kane, we understand the law regarding relocation, and can advise on how it applies to your case. Our attorney will also help you through the entire process and give you the best chance of a positive outcome. When you need legal counsel, call us at (215) 918-9453 or contact us online to schedule a meeting with our skilled attorney.
https://www.phillyfamilylawyer.com/do-children-have-a-say-in-child-custody-cases/