Study: Poor Communication A Major Risk Factor In Divorce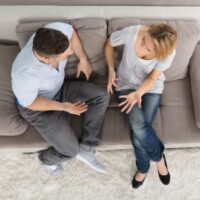 Why did your marriage fail? Well, we were just "growing apart". Growing apart is one of the most often-cited reasons for American divorces. But what does "growing apart" actually entail? In fact, "growing apart" may have everything to do with not being able (or willing) to talk to one another. In fact, 55% of Americans didn't cite adultery, abuse, or financial problems for their divorce, they said only that they "grew apart". Specifically, "not being able to talk together" was cited as a major reason for growing apart. But it might be more that the spouses no longer see the value in reconciliation, according to the Journal of Divorce and Remarriage.
Motivation to reconcile 
The biggest issue that the study noted was that couples reach a point where they are no longer heavily invested in reconciliation. At this point, their communication breaks down. Neither party seems willing to make the effort to express what they're feeling because both parties are now looking forward and away from one another.
Emotional investment in reconciliation 
By the time clients reach our office, they are no longer interested in reconciliation. Although some of these couples will resolve their differences and even eventually have some semblance of a relationship, that is actually quite rare, especially today.
Largely, divorces occur when at least one party is part of the point of reconciliation. In situations of infidelity, abuse, or financial infidelity, you'll see divorcees who are much less likely to want to reconcile than otherwise. However, the majority of marriages dissolve because the spouses "grow apart". So at what point does one spouse finally reach a breaking point and say they are no longer willing to reconcile? In fact, there may be no such point. It can happen in a thousand different ways over the course of years before one or the other party wakes up feeling unhappy and begins dreaming of something different.
"No-fault" divorces in Pennsylvania 
Pennsylvania permits "fault-based" divorces, unlike many states that have moved on and consider all divorces "no-fault". It used to be that if you wanted a divorce you had to blame your spouse for something or make a specific accusation against them that they mistreated you. However, now every state in the country permits "no-fault" divorces including New York, which was the last state to allow them.
It's true that the majority of divorces in Pennsylvania will be filed on "no-fault" grounds, however, that doesn't mean that the divorce will be uncontested. To pursue a no-fault divorce, the parties must agree beforehand to submit their filing together. If they can't, then the court must hold a hearing to determine if the couple meets the criteria for a no-fault divorce.
Talk to a Philadelphia Divorce Attorney Today 
If you are considering divorce, call the Philadelphia divorce lawyers at the Law Offices of Lauren H. Kane today to schedule an appointment by either calling our number at 215-918-9453 or fill out our online form.
Resource:
tandfonline.com/doi/abs/10.1080/10502556.2012.682898?journalCode=wjdr20