Mediation And Alimony: Will I Get What I Need?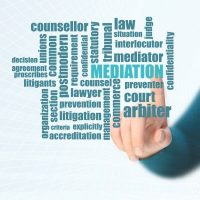 Alimony is paid from one spouse to another in cases where one spouse does not make enough money to support their current lifestyle. Ultimately, alimony is determined by a number of factors, but the most significant of those factors is whether or not your spouse can afford to pay and how much they can afford to pay. Alimony is part of the overall divorce settlement and is not a part of every divorce. As an example, a spouse may elect to make a lump sum payment or divest of a valuable asset to avoid paying a monthly sum to a former spouse. Ultimately, it's about what the former spouse needs and the other spouse can afford to pay.
The main benefits of mediation 
While mediation won't be appropriate for every situation, it is largely the default way to dissolve a manner in most cases. In some states, a couple will be forced to mediate their divorce before attempting to litigate. For the government, litigation requires more resources to sort out. For the couple, it costs more money, takes longer, and all of the choices are outside of their hands.
Mediation allows the couple to retain control over their choices, but they must be able to reach an accord together, present it to the court, and the court must sign off on it. In most cases, the court will not reject an agreement that was presented by both parents together unless there are allegations of abuse or misconduct and there are children involved.
So, the main benefits of mediation are: It's cheaper, it's easier, it's quicker, and it's private.
Alimony and litigation 
For some folks, it will feel as though their divorce is never over. While they may recover a judgment in family court, collecting the judgment can be difficult. Family courts can put pressure on a spouse who refuses to pay alimony, but often, the spouse who is getting alimony has to go through their attorney, who contacts the other spouse's attorney, and everyone ends up back in front of the court.
What is the purpose of alimony? 
Alimony prevents one spouse from leaving another destitute over having the power of financial doom over their partner. The partner won't be compelled to stay in a marriage for financial convenience or be rendered a pauper after divorce. The breadwinner has to support the spouse financially so that they can enjoy a similar standard of living moving forward. Alimony has nothing to do with child support. It is there for the spouse—not the children.
Ultimately, alimony fits under the litmus of the marital estate. A spouse can avoid divesting their estate by agreeing to pay out some of the proceeds on a prorated basis over a specific period of time. They can keep their "stuff" and assets and the former spouse has income to continue their life.
Philadelphia, Serving Bucks, Chester, Delaware, Montgomery & Philadelphia County 
Philadelphia divorce lawyer Lauren H. Kane represents the interests of those seeking divorce. Call today to schedule an appointment and we can begin discussing your needs immediately.