The Impact Of Your Divorce At Work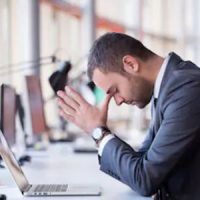 A recent study sought to determine if Americans going through a divorce suffered at work. As it turns out, some do and some don't. While some folks report that their divorce has given them renewed focus on their careers, others report that it has hampered their attitude and motivation. It goes without saying that every divorce is different and some divorces come as a relief while others come as a shock. Hence, outcomes for divorcing couples could be wildly different based on their own perspective on the divorce and their process for dealing with negative feelings.
The findings 
Most Americans did report lower health, poorer job performance, and lower motivation. However, only 44% said that their divorce had a negative impact on their work and 39% reported their divorce improved their work performance.
The question then is: Will your divorce decrease or increase your stress? A second study showed that those who suffered financial stress due to their divorce had worse outcomes than those who didn't. Additionally, spouses with children reported fewer work-related hiccups than those without. After a year of following those involved in the study, their general sense of their own well-being and job performance improved.
How to manage a distressing divorce 
Men especially tend to get really down during divorces. While this isn't true of all men, it is true of those who have committed to being family men. Often, these men don't have social circles that they can lean on for support. In these cases, their emotional and physical health can rapidly deteriorate. It is common enough now that studies have been conducted on the emotional health of men post-divorce. Often, when something falls apart in their family life, everything else will cascade with it.
Anyone who has been in a marriage for an extended period of time will suffer a grieving process when that marriage ends. The grieving process is debilitating and saps your emotional resources, but it is necessary to establish a new and strong foundation.
Finding emotional support after divorce 
One of the major risk factors for a severe emotional fallout is social isolation and substance abuse, which occur frequently in the midst of a divorce and help no one. For men especially, relying on social support networks to get their minds off their problems often involves alcohol. Today, there are resources available to men, including divorce coaches, major life event therapy, and more. Men who take advantage of these resources when they find themselves in a difficult position will have better outcomes than those who don't.
Talk to a Philadelphia Divorce Attorney Today 
Lauren H. Kane represents the interests of those seeking divorce in Philadelphia County. Call our Philadelphia family lawyers today to schedule an appointment and we can begin discussing your goals immediately.
Source:
twin-cities.umn.edu/news-events/how-divorce-impacts-work