Study: Cheap Weddings Reduce Likelihood Of Divorce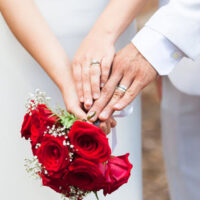 In our last article, we discussed how debt can impact the decision to marry and the quality of the marriage for couples who are struggling with debt. In this article, we found a closely-linked study that shows that couples who spend big on marriage ceremonies are twice as likely to divorce as those who have cheap (but big) weddings. An increased risk of divorce was associated with large (but lavish) weddings and cheap (but small) weddings.
The study indicated that those who spent more than £20,000 (the study was conducted in the UK) were more than twice as likely to see their marriages break down within the first three years than the average. Meanwhile, 34% of couples who had fewer than ten guests at their wedding tended to divorce within the first 10 years. The findings indicate that spending huge or inviting a handful of people could double the chances of divorce.
Nonetheless, we wouldn't advise that you make decisions based on statistical averages because they may not indicate what they appear to indicate.
Why do cheap weddings reduce divorce rates? 
They don't really. But couples who incur less debt as a result of their wedding are less likely to have specific stressors placed on their relationship. Money issues are often cited as the number one reason for divorce. Debts incurred due to weddings loom over a couple's head for several years, cutting into their finances, preventing them from purchasing a house, or delaying when to have children. In other words, the couples are spending so much on the ceremony that they don't have much left over to pursue their dreams as a couple.
Why do small weddings increase divorce rates? 
Theories on why small weddings tend to increase divorce rates are not particularly compelling. However, it does indicate that the ceremony itself is important. That might give you the idea that spending big on your wedding ceremony will produce a happy marriage. But that's only true so long as you don't incur massive debt from the ceremony.
Theories on why the wedding ceremony is so important involve social pressures. Couples who pay to have lavish ceremonies and announce their coupling before all their friends and family have the social pressure of being seen as a couple. If debt and money problems are not an issue, the average rate of divorce among these couples is roughly 5%. If debt incurred due to the wedding is an issue, then the number jumps to 10%. On the other hand, small ceremonies tend to also double the divorce rates among couples. So, hitting the happy medium of a large (but inexpensive) ceremony appears to halve the likelihood your marriage will end in divorce.
Talk to a Philadelphia Divorce Attorney Today 
When divorce is on the horizon, you need an advocate who will secure the interests of you and your family. Call a Philadelphia divorce lawyer at the Law Offices of Lauren H. Kane today at 215-918-9453 and we can begin discussing your future goals immediately.
Source:
dailymail.co.uk/news/article-10506151/Couples-weddings-cheap-likely-end-divorcing-new-study-finds.html