How to Talk to Your Kids About Divorce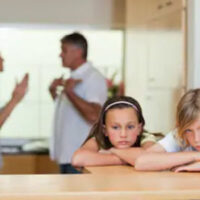 Going through a divorce is never easy, but it is even harder when children are involved. One of the most difficult aspects for parents is telling their children about the divorce. Many people do not know how to start that conversation, how much they should tell their children, and how to reduce the emotional impact the news will have on the kids. Below are some tips for talking to your children about your upcoming divorce that can make it easier.
Talk to Them Together
Just like when parenting together in the same house, you still want to present a united front when talking to your kids about your divorce. Sit down with the children and your spouse so you can gently break the news together. This will give your children the reassurance they need to know that while you and your spouse may be breaking up, the family unit is not.
The Proactive Approach
When children think the divorce is their fault and they continuously try to reunite their parents, it only makes the entire situation more difficult. Reassure your children that the divorce is not their fault, but also make sure you reinforce the idea that your decision is final.
Encourage Questions
You likely have many questions about divorce and what led you to it, but your children have even more. They do not know the circumstances that led up to your decision, and they will also likely have many questions regarding child custody issues and where they are going to live. Encourage these questions and when answering them, try to remain as open and honest as possible.
Do Not Say Too Much
Although you should answer your child's questions as honestly as possible, you also should not feel the need to tell your child everything. Do not lay blame on your spouse, even if you are angry, and always keep your answers age appropriate.
Realize that the Situation is Ongoing
Unfortunately, the divorce talk does not ever really end. Although you may think that you answered all of their questions and were as clear as possible, that is likely not the case. Your children will think of more questions and have more input into the situation as it progresses. Even years after the divorce is final, your children may still ask about it. Always continue to encourage the discussion and assure your children that they can always talk to you about anything. 
Our Pennsylvania and New Jersey Divorce Lawyers Can Advise on Your Case
When going through a divorce, you will have a lot of questions and will need legal advice. At the Law Offices of Lauren H. Kane, our knowledgeable Philadelphia divorce lawyer can explain the law and how it applies to your case, and answer any question you may have. If you are considering divorce or you have already started the process, call Attorney Kane at (215) 918-9453 or fill out our online form to schedule a consultation so she can get started on your case.
Resource:
legis.state.pa.us/cfdocs/legis/LI/consCheck.cfm?txtType=HTM&ttl=23&div=0&chpt=33&sctn=1&subsctn=0
https://www.phillyfamilylawyer.com/how-long-does-it-take-to-divorce/