Writing a Premarital Agreement? Make Sure It is Valid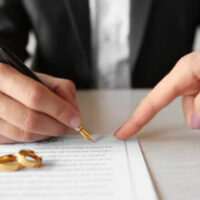 Premarital agreements are no longer considered unromantic documents that make divorce inevitable. Today, more and more couples are creating premarital agreements in order to feel more comfortable when entering into a marriage. However, the terms of a premarital agreement only work they are written properly and considered valid by the Pennsylvania courts. If you are about to get married and are considering a premarital agreement, learn what makes one valid below so that yours protects you as it should.
Benefits of a Premarital Agreement
A premarital agreement is a formal agreement into which two people enter into before they get married. This agreement outlines what property each spouse will keep in the event that the couple gets divorced. Drafting this agreement can help make the entire process go much faster in case the couple decides to dissolve the marriage one day. It can also make a divorce less contentious because everything has been outlined beforehand.
However, a premarital agreement is not only about getting a divorce. These agreements require a couple to talk about their finances prior to the wedding, which is something many couples find difficult to do. When one spouse has significantly more assets than the other, it can also reassure him or her that his or her partner is not only marrying them for the money.
What Makes a Premarital Agreement Valid
It is crucial to ensure that a premarital agreement is valid because this is only determined once the couple decides to get a divorce. For this reason, many people choose to work with an attorney that can draft the agreement for them and ensure that it is valid and will be upheld in court. The requirements for a premarital agreement include:
The agreement must be in writing,
Both spouses must sign the document,
The agreement must include a statement of the complete assets for both individuals and include an estimated net worth of each party, as well as a history of tax and salary information,
Neither party can signed the agreement while under duress or if he or she is a victim of fraud,
The parties must know what the agreement states, with all terms and conditions included, and must have a reasonable amount of time to consider the agreement before signing, and
The agreement must not be 'unconscionable' or unfair.
When any of these validity requirements are not met, a judge will likely consider the premarital agreement void and the couple will still have to go through lengthy property division hearings.
Our Pennsylvania and New Jersey Family Law Firm can Help
Premarital agreements are important documents that can help protect the assets of both parties when entering into a marriage. If you are about to get married, the Law Offices of Lauren H. Kane can assist you with a premarital agreement. We know how to draft premarital agreements and ensure that they will be considered valid and enforceable by the court. Protect what is yours today by calling us at 215-238-9529 or contact us online to arrange a consultation with us.