Four Misconceptions About Premarital Agreements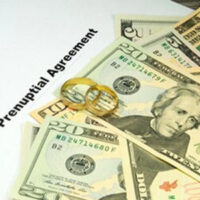 Nearly half of all marriages in the country end in divorce. Although this statistic is widely known, couples still think it will never happen to them. It is always important to consider the possibility of divorce, even though it is not the most romantic of ideas. You have to protect yourself, your finances, your home, and more. A premarital agreement can provide this protection, but these documents are widely misunderstood. Below are four of the biggest misconceptions about premarital agreements in Bucks County, and the truth behind them.
Premarital Agreements are Expensive
Many people do not want to pay legal fees for something they think they will never need. It is important to not let this kind of thinking keep you from drafting a premarital agreement. If you do get a divorce, the costs of litigation and dividing your assets will be far greater than the small fee you will pay for drafting an agreement. Money is one of the main reasons couples get divorced as well, so having everything laid out in writing should anything go wrong is well worth the minimal one-time expense.
I will Protect My Finances Myself
Some people think that because a retirement savings account is in their name, or because they earn their own income, those finances are already protected, making a premarital agreement unnecessary. Unfortunately, these assets are not protected without a legal agreement. The income you earn during your marriage is likely going to be considered marital property without a prenup, meaning that you will lose some of it during a divorce. Any contributions made to retirement savings during the marriage are also considered marital property, unless a premarital agreement says otherwise.
Prenups Cause Problems in the Relationship
Premarital agreements provide solutions. They do not create problems. It is natural to think that they may cause some uncomfortableness, and perhaps even an argument, but that is not usually the case. Instead, a premarital agreement can actually help strengthen relationships because both parties have laid their cards on the table and know there will not be any surprises in the future.
Premarital Agreements are Often Not Enforced
It is true that not all premarital agreements are enforced by the courts, but these cases are in the minority. When a premarital agreement is drafted properly, and both parties have signed it voluntarily, the court will generally uphold the agreement. Still, it is for this reason it is so important to work with a family lawyer that will ensure your agreement is enforceable and provides the protection it was intended to.
Our Family Lawyer Can Help with Your Prenup
If you want to draft a premarital agreement, or enforce or defend one, our Philadelphia family lawyer at the Law Offices of Lauren H. Kane can help you do it. Attorney Kane will answer all of your questions, and provide sound legal advice so you know your future is protected. Call us today at 215-918-9453 or fill out our online form to schedule a consultation.